Kitchen Splashbacks
Looking for a glass splashback in London or Middlesex? Glass Splashbacks have so many unique qualities. They are hygienic, low maintenance and stylish option, making them the popular choice for many in kitchens and bathrooms across the UK. At Prad Glass, not only do we supply made to measure Glass Splashbacks, we also measure and install them too ensuring absolute precision. Our service begins with a glass splashback measuring service throughout the London areas we cover. In this visit we will template the area you require the splashback for. Following that we will manufacture the glass splashback of your choice and then return to install it in your home or business at a later date.

Please feel free to contact us at any time to discuss your requirements in more detail.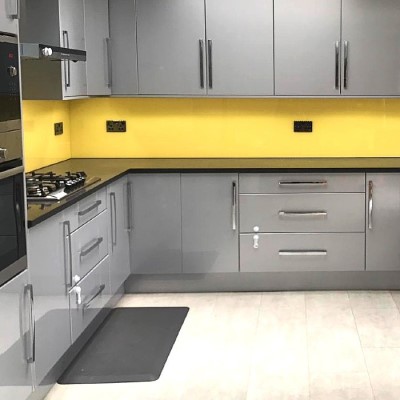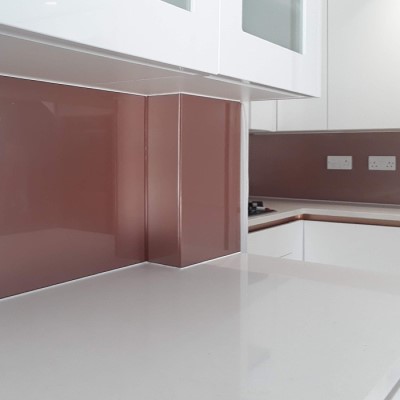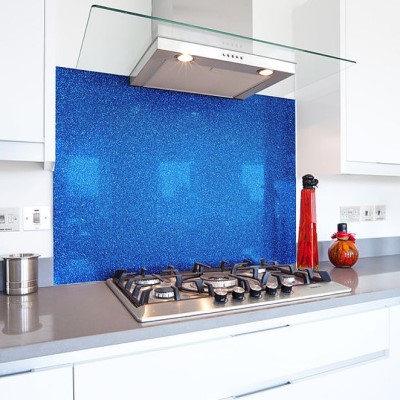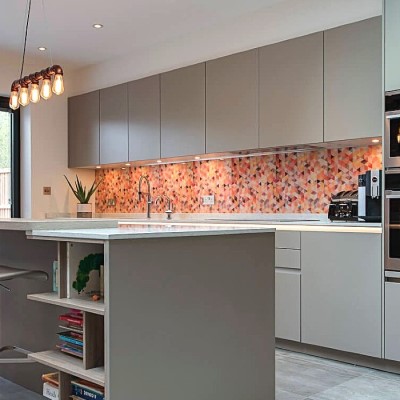 Bespoke Glass Splashbacks are becoming increasingly popular as focal points throughout homes, restaurants and offices. Glass Splashbacks don't just offer a contemporary look - the glass is also hygienic, safe, and practical, even better they will never require re-grouting. We use specialist paint that has been specially designed for glass, this provides a stunning finish as well as providing a long lasting option which will not falter no matter what is thrown at it.

With the whole production process taking place under one roof, quality levels are always being inspected and as a result, our customers can always expect the highest standard of products. All of our splashbacks are made using 6mm Toughened Low Iron Clear Glass all with stunning polished edges and foil backing as standard. The specially formulated low iron recipe makes the glass ultra clear, ensuring that your colour shines without distortion and foil backing provides that durability which ensures that your splashback will be long lasting and survive the rigours of everyday life. We are also able to provide cut-outs for sockets, taps, sinks and anything else that may get in the way further enhancing the nature of your designs.
Coloured Splashbacks - Colour Matching Service Available
Considering adding a splash of colour to your room with a coloured glass splashback? The sky is the list where coloured Glass Splashbacks are concerned as with a multitude of options to choose from, we can colour match to any colour as well as digitally printed glass to complement your own décor. For a crisp, clean and contemporary look, we can also cut-made to measure glass table tops to complete the room perfectly. Or if you're looking for an alternate place to eat, you could opt for an extended breakfast bar out made from bespoke glass. We offer RAL and BS 4800 colours for you to choose from and even if you cannot find your colour from the colour charts below, we also offer a colour matching service so you can get the exact colour you are looking for. If we cannot fulfil your glass measurements online, do not hesitate to contact us with your requirements. Here at Prad Glass we take pride in making every solution unique.
Please feel free to contact us at any time to discuss your requirements in more detail.